Here is the Working Log on the first Version of the Infinty War/Endgame Thor. I made the full costume with the Hottoys Figure as reference since I started to make it a few days after watching Infinity War. Patterns for the newest Version I am working on will be avaibale soon. It will be more detailed, because I have actual footage of his vest now.



Why I choosed Thor as a project
Is this really a question that need to be answered? A few years ago I loved to watch the Avengers Assemble cartoon series. I really liked how Thor was portrayed there, a little bit stupid, unintentionally funny and strong. Before Thor Ragnarok I wasnt interested in the MCU character at all. Additionally Thor 2 is still the worst Marvel Cinematic Universe movie and Thor 1 wasnt that great either. Ragnarok changed it completely. I started to love the movie version because it reminded me so much of the modern cartoon character. Another plus point is Chris Hemsworth. Thats reason enough. After watching Infinity War and that one scene that made every comic lover drool, I asked Daniel a few times if he wanted to cosplay Thor. Finally he agreed. I made the cosplay in 4 or 5 weeks and its almost completely made with leftovers because I was on a very low budget during this time.



Anyways, enjoy my progress on Infinity War Thor Version one! For questions you can always hit me up on facebook or instagram!
//MATERIALS
These are affiliate links. If you buy via these links, I will get a small amount of money. Thank you in advance!
I used all of these products above to create my first Thor version. You dont need the exact products but heres a list of what you might need:
5mm, 3mm and 2mm High Density Foam, 5mm LED Foam, Pattex Classic glue, heavy cotton fabric in black and red, clips, upholstery foam, velcro, fairy lights, shoes, fake leather, gummidip or something else to prime, acrylic colors, some pants, wool, iron fleece, Worblas Pearly Art
//THE VEST
For the Vest I used different kinds of foam. The white foam in this one is mainly used for larping. Its better known as LED foam but its still a little bit different. The darker grey foam is from polyprops and the lighter one is simple craft foam or from craftperium. The disks are made with LED foam. Then I took a piece of white worbla, cut out all the holes and lightning by hand and glued it on very carefull. Everything is closed in the back with the simple clips you can see on the photos. Lightning effects were added with a cheap fairy light from amazon. You can find the link for the fairy lights in the material list. Just click on the image. If you buy via these links, I will get a small amount of money. Thank you in advance! When I am making the second Version of this vest, I make a full step by step tutorial and you can purchase the pattern for it by then. At the moment I can just give you these progress pictures and the pictures of a commission I made. After finishing crafting, I primed the vest with 4 layers of Gummidip.
//THE ARMS
Since Thor has very muscular arms, it helped a lot that his arms are covered in scales. I was able to make a muscle suit for that. The suit is made with a basic sewn arm on each side where the foam muscles are glued on. Its covered with iron fleece later and in the end another sewn arm will be slid over it. After 9 hours of cutting and glueing small foam parts, one arm was almost done. See the process of making it in the next photos. All materials are linked on top of this site. If you buy via one of the links, I will get a small amount of money of it. Thanks a lot.
Here is the gauntlet. You will get the pattern for that soon too!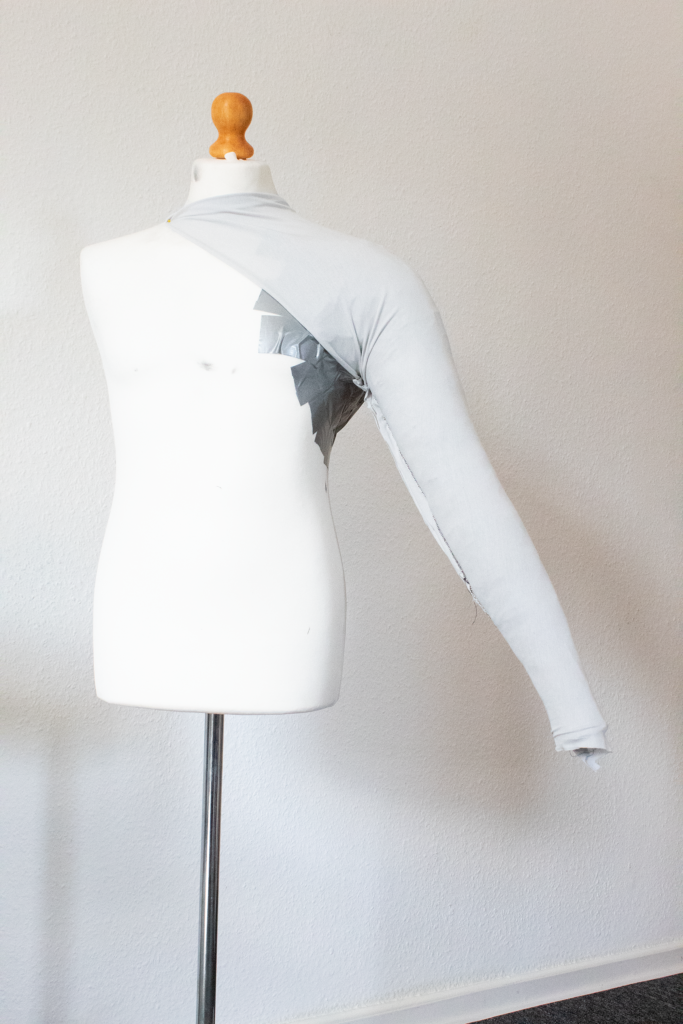 //THE MAKE UP
'
//LIGHTNING EFFECTS
The Lightning effects are made with a simple fairy light, some hot glue and your fingers. Just twist the wires in your desired shape, cover it with hot glue and wool…and you are done!